Roses are red,
Ether is light,
Steampunk's on sale
So treat yo self right!
That's right, everyone! SKIES OF FIRE and NIGHT OF FIRE, the first two Ether Chronicles Books, are on sale right now for only $.99!
Happy Valentine's Day! Hope yours is steamy!
Me:

(looking online at prom dresses for no good reason) What's your prom style?

Nico:

Shipwreck.
Take home a bad boy tonight!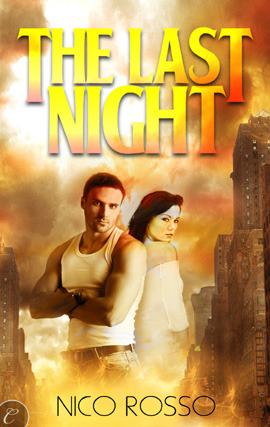 After a chain of earthquakes ravaged the globe, long-dormant viruses were released into the air, turning many humans into creatures with an appetite for human ashes. Erica and a group of survivors are barricaded in a half-destroyed hotel, and every day brings them closer to being devoured by the seemingly unstoppable ashers. Even though Erica is a fighter, she's tired of just surviving…
When a mysterious stranger rides into town, everything changes. Jake knows how to kill the ashers, and he's the only man brave enough to leave the safety of the hotel in search of a better life. Erica and Jake make a deadly fighting team, with even hotter sparks flying between them. But Jake has survived this long because he rides alone. He doesn't trust easily, especially in this harsh new reality. Can Erica convince Jake that living is more than just surviving to the next day?
Win yourself some hot sci-fi romance, penned by none other than Nico Rosso—aka, my husband. Believe me, this guy knows romance.